This is the most recent video captured on

8/24/2007 (The date above 8/31 is the date I uploaded it to my computer).  I was home alone. John had taken the kids out for the evening. As soon as I was home alone, the activity started...little sounds here and there.  So, I decided it was a good time to see if I could capture anything on film. I called my sister Toni to come over. While we were setting up the camcorder, an anamolie came flying down the hall, swooped around and came back. If you watch closely, when it comes back around towards the camera, it actually spreads out almost like it has wings. Then it just vanishes in to thin air.

The following videos of paranormal anomolies were captured

in Kimberly and John's home, by Kimberly

and also during a formal paranormal investigation.

Note: You must have windows media player to view these videos.

Don't have it?

All stories, events and pictures on this page/website

are the sole property of

www.true-ghost-stories.com

Therefore, please do not remove, copy, reproduce,

or otherwise without prior conscent.

Thank You!

Copyright (C) 2001 www.true-ghost-stories.com (k.b)

All Rights Reserved

This video was captured by
Florida Ghost Team
during paranormal investigation of our home.  This video was taken in our oldest son Corey's room (formerly known as "the scary room"....where most of the acitivty occured when we first purchased this home.  The video shows an anomolie shoot out from the bed and go up towards the window.
This video shows large orb as it flies from behind me and shoots down the hall in an upward motion and then goes in to the "former" master bedroom...now "spare bedroom".

This video shows a small orb as it comes up through the floor we are tearing out to replace with new tiles...it flutters about a bit then goes in to the bathroom. (It's not a bug, I had the video clip analyzed by a paranormal investigator and he confirmed it's a genuine paranormal orb)

This video shows a small single orb as it exists one of the bedrooms and flies directly into the bathroom...at the time it flies out, I'm requesting anything in the area to move the toy truck I've placed at the end of the hall.  The video following this one, shows not only the first orb exit the bathroom...but now it has brought along company.

This video is actually a continuance of the previous video. I am asking these anomolies to move the toy truck at the end of the hall.  This video shows "two" orbs exit the bathroom and fly to the truck as if to understand and respond to my request.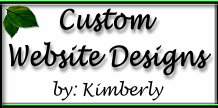 More projects you'll find Kimberly working with: